Human Capital and Emergency Succession Planning
The pandemic certainly has changed things - work, home life, school, socializing, etc. - in ways we would never have imagined. We work at home, school at home, socialize over Zoom, have our groceries delivered, and take all the precautions needed to keep ourselves and our families safe. At present, there is no real end in sight to COVID-19 and no view into what "normal" might look like in the future because the situation changes all the time. It's hard to know if anyone has figured out the real impact of the pandemic on our home and work lives. For this reason, business continuity planning takes on even more importance since poor planning can hurt our ability to continue day-to-day operations.

In addition to the need for more planning in general, one result of the current situation is an increased focus on human capital, as personnel fall by the wayside because of illness, lack of childcare, or fear of returning to what was. Even those working at home are affected by these situations, as parents become teachers and have many conflicting demands on their time. For some employers, the impact on human capital may have been profound, while for some, it has been merely inconvenient. The question is, what are we doing about preserving human capital and ensuring its continuing value to the organization? What, in fact, is human capital, and what is its significance?
Britannica.com defines human capital as the "intangible collective resources possessed by individuals and groups within a given population. These resources include all the knowledge, talents, skills, abilities, experience, intelligence, training, judgment, and wisdom possessed individually and collectively. The cumulative total of which represents a form of wealth available to nations and organizations to accomplish their goals."

In short, everyone in the organization has knowledge and skills that add to the human capital and help drive the productivity of the organization and ensure its continuing operation. The renewed focus on employees has resulted in recognition of the value of human capital and important changes in areas including compensation, health and welfare, culture, and leadership. Even before COVID-19, employers were seeking talented individuals in the organization with the ability to take on new roles and responsibilities.
People most likely think of the value of the C-Suite when it comes to critical talents and skills. Still, there are many other key roles in the organization that provide critical value as well. Those roles must be identified and documented to ensure the continuity of operations. Do you have a plan on how to fill key positions if people fall ill or die, or do not continue working for one reason or another? You probably have a succession plan of some kind, but do you have an emergency succession plan?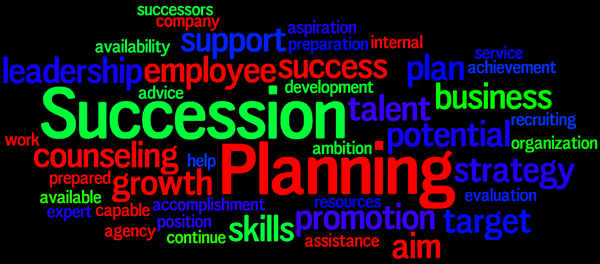 We are more conditioned to think of succession planning as a way to pass on a leadership role in the event of anticipated changes like CEO retirement, for example. An emergency succession plan would kick in, however, if the CEO died unexpectedly or if the pandemic we are now experiencing causes changes due to illness. The planning for both types of succession is similar. Still, emergency succession is more focused on the short term rather than the long term, since we would hope those taken ill will return to work.
Begin the planning by prioritizing the most critical roles that will need to be filled to keep the business running. If you haven't done this already, do it now; you need to be able to act fast as the need arises. If you are not sure of which talents people have, you may need to make some decisions that could be risky, but might turn out to be good decisions. You can only identify the person or persons to handle the role if you have documented what the CEO or other individual does. For each key role, from the top down, know the specifics of what that person does, who might fill that slot if the need arises, who replaces the replacement if they become ill. And can that role be shared by more than one person? Following those decisions, some cross-training should be done so people can move into their new responsibilities with some knowledge of what is expected of them.
If you have not dealt with emergency succession planning in your business continuity plan, now would definitely be the time to get it done. If you have such a plan but haven't reviewed it in a while, it's time to look it over and make sure it's up to date and can be put into action if needed.
---
Copyright (C) Attainium Corp - All rights reserved.